The crypto market crashed on Friday morning (UTC time) suddenly, erasing almost all its gains this week, before rebounding somewhat.
All major coins are in red now (04:14 UTC), while the absolute majority of tokens among the top 100 dropped by 10%-20% in the past 24 hours. The total market capitalization is down almost 10%, to USD 234 billion.
Bitcoin dropped almost 10%, ether lost almost 7%, while XRP, Stellar and Cardano are the biggest losers among the top 10 coins.
Top 10 coins by market capitalization:
(04:14 UTC)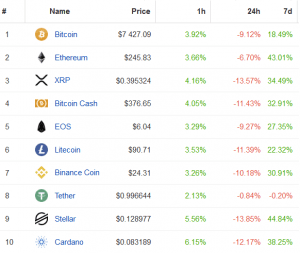 ___
Bitcoin price chart: